Step 3 - How I set changes within me?
The changes are those actions with which you commit to steering to achieve the desired happiness. It is important to have the initial value for wanting to improve, and once indicated the changes, have the commitment to realize them. To enable the user to achieve a greater degree of happiness is necessary that a set of changes to be marked to get to meet all its conditions. Changes like conditions, are personal and never generalizable by race, religion or sex, although you can find conductive patterns.
Components of change
The main components that should be included to define a change are the description, the different options or scenarios to achieve and the commitment date. Optionally we can include a prize or a reminder.
• Description of the Change: an objective phrase that should be concrete and measurable.
• Scenarios or Options: different ways or paths to get to make the change. Typically there are several steps to take to get change, and it is always necessary to understand all obstacles that may arise, and to know all aid that could be helpful.
• Date: time when we are committed to having the complete or completed change.
• Reward: optionally may include an award that will materialize when getting the change.
• Reminders: understood as those things that make us remember our task. For example, a post-it that reminds us of something or its equivalent in the electronic format that reminds us what we have to do.
Example An example summarized and orderly to help you more easily fix commented points: to gain five to six in the area of health, I pledge to reduce cigarette smoke (specific objective), down from thirty to ten cigarettes per day (measurable), quitting smoking two per week, so in ten weeks (specific date) I have reached my goal. I define a list of things I need to do to get it(shares):

Do not move or be around other people who smoke
Do not go out with my friends on Fridays to avoid temptations
Clean the ashtray of my car to smell good
The idea now is to get marked changes for all the conditions that are not met. Now we can select the conditions that we want to see fulfilled and the system will offer us a change from the more than 10,000 it has. When we have found the change to include, we only have to press to select the date on which we are committed to it and the prize we'll give ourselves.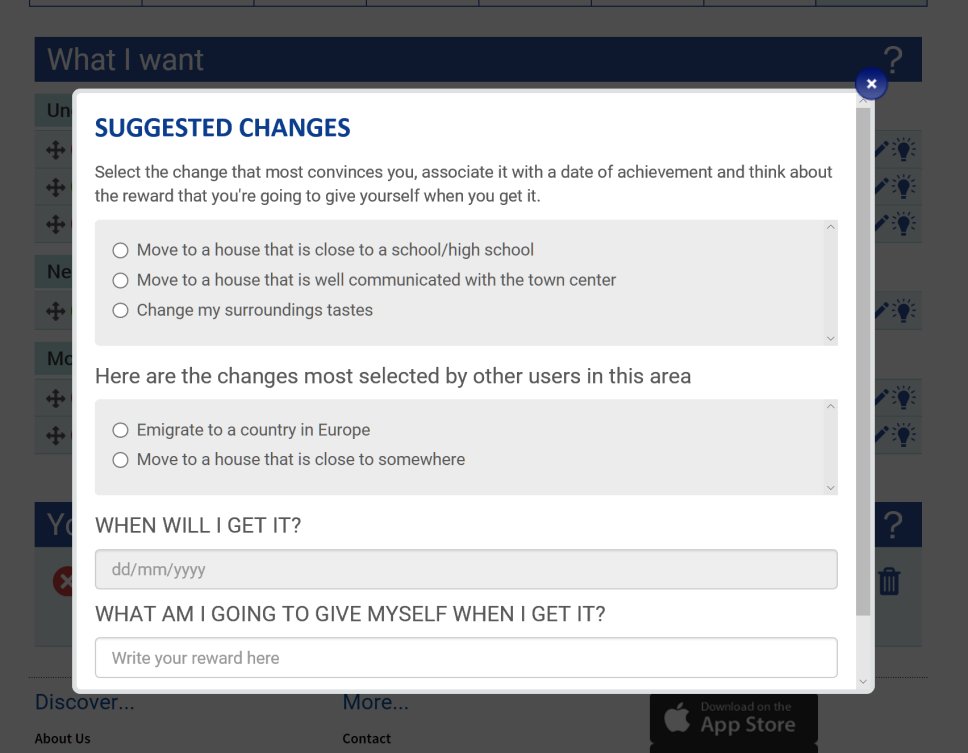 You can also include a change ourselves if we press on If you do not find the change you want, suggest us that change. After entering the text, date and gift associated with that change, click Add Change. Once we're done, just click Save and continue to the next step.
You can also delete the change if you are not convinced or indicate whether he has already served.